Discussing the scope of economic cooperation between Abu Dhabi and Nevada, the Abu Dhabi Chamber of Commerce and Industry has held a meeting with a trade delegation from the American state, which was held at the Chamber's tower in Abu Dhabi.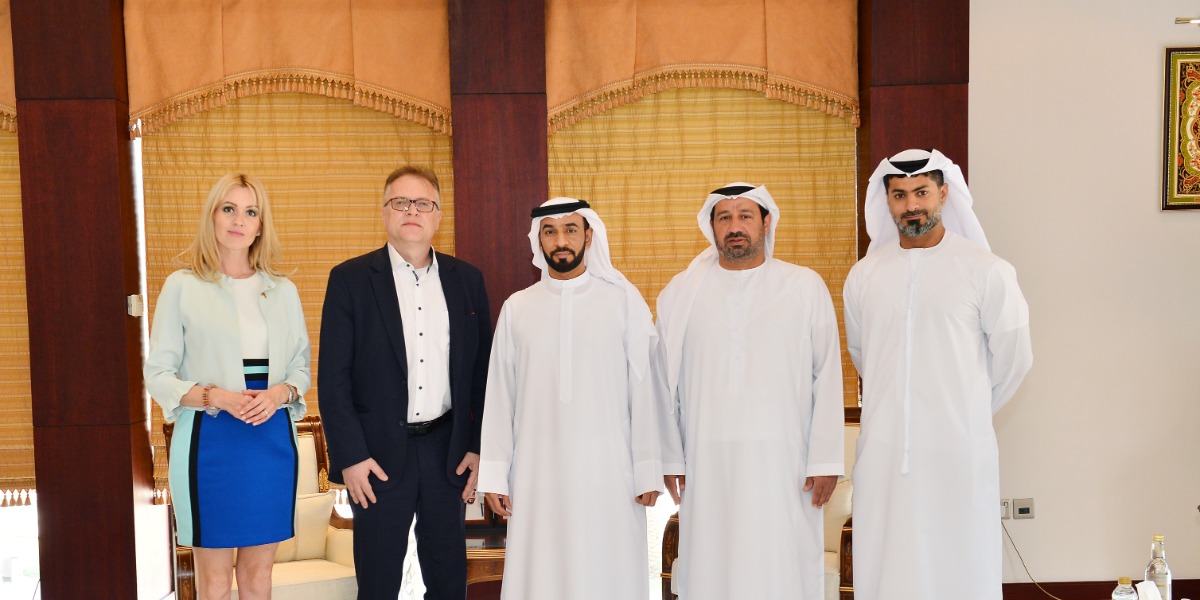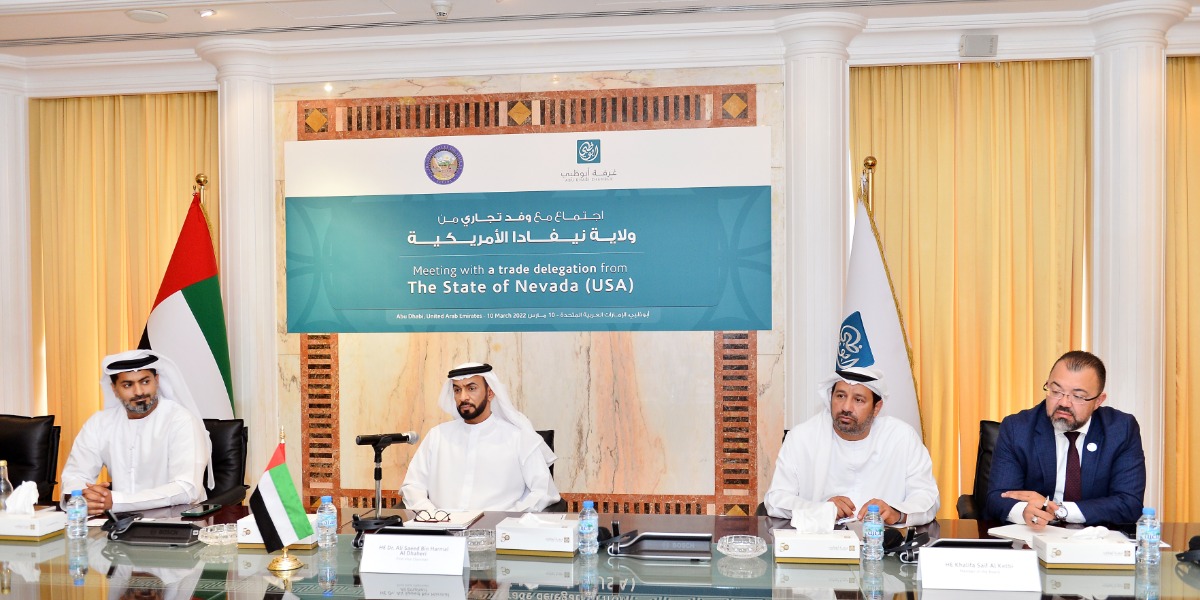 His Excellency Dr. Ali Saeed bin Harmal Al Dhaheri, First Vice Chairman of Abu Dhabi Chamber, chaired the meeting, which was attended by His Excellency Masood Rahma Al Masood, the Treasurer of the Chamber's Board of Director, along with his fellow Board Member Fouad Darwish.
From the American side, His Excellency Dr. Pawel Pietrasienski, Director of International Trade – Nevada Governor's Office of Economic Development, headed the visiting delegation, which consisted of many key American companies operating in the State of Nevada.
At the beginning of the meeting, H.E. Al Dhaheri welcomed delegation, which is visiting the Abu Dhabi Chamber discuss various means of increasing economic cooperation between Abu Dhabi and Nevada.
In his speech, Dr. Al Dhaheri emphasized that the Emirati-US relationship is very strong at all levels, saying that both countries share robust economic relations which are particularly evident when considering several trade and investment indicators. He indicated to statistics issued by the Bureau of Economic Analysis at the US Department of Commerce, which states that UAE's investments make up the largest share of total Arab investments in the US markets at 17.3 billion Dollar in 2020, whereas the US FDI inflows to the UAE amounted to 19.47 billion Dollar in 2020, making it the largest recipient of US FDI in the GCC.
Exploring Opportunities
Dr. Al Dhaheri emphasized on the importance of the visit of the American delegation since it consists of a large number of businesses from diverse sectors, inviting them to explore the promising investment opportunities and form new strategic partnerships with our local companies that share common interests.
"The UAE today is an active and stable economic powerhouse, he remarked, adding that the UAE enjoys an important geographical location, several economic incentives, strong spending on developmental projects, a safe and open environment, and a tolerant and multicultural society representing more than 200 nationalities. "It is due to these reasons and many others that our country has retained its number 1 rank in the GCC, and 22nd globally in attracting FDI as per the 2021 World Investment Report of the UNCTAD."
Abu Dhabi Vision
The First Vice Chairman gave a brief on the business environment in Abu Dhabi, saying that Abu Dhabi was ranked the first smart city in the region, and 42nd globally, by the IMD's Smart City Index in 2020.
"Our government in Abu Dhabi provides necessary facilities to attract foreign investments in several strategic sectors, especially those envisioned by Abu Dhabi Economic Vision 2030; these sectors include, manufacturing, tourism, agritech, logistics, healthcare and biopharma, energy, ICT, education, transportation, financial services, telecommunications, petrochemicals, and aviation.
Abu Dhabi Vision also offers huge opportunities for American companies to expand their businesses in the region," he reiterated.
Abu Dhabi Chamber Support
Dr. Al Dhaheri called on American businesses to continue to set up their operations in the capital, to make use of the excellent infrastructure available, the preferential market access to the rest of the region, as well as the most recent legislative developments allowing full ownership of onshore companies in several commercial sectors.
"This is a true testimony to the ongoing efforts to develop a favorable legislative environment for all businesses to thrive and prosper in our beloved UAE," he explained.
He emphasized on the Abu Dhabi Chamber's commitment to support American companies looking to do business in Abu Dhabi. "We are ready to offer them the necessary services to make their businesses a success," he concluded.
Lithium Batteries
For his part, Dr. Pietrasienski expressed his delight for visiting the Emirate of Abu Dhabi, noting that his delegation is the first American delegation from the State of Nevada to visit the country.
He added that the visit is a testimony to the interest of businesses in his country to form strong economic partnerships in key sectors including battery manufacturing, considering that Nevada is the largest state to manufacture high quality lithium batteries.
The State of Nevada is also well known for its hospitality and hospitality technology sectors.
Dr. Pietrasienski invited the Abu Dhabi Chamber to form a trade delegation and visit Nevada in order to take a closer look at the available investment opportunities there.
On the sideline of the meeting, Abu Dhabi Investment Office delivered a overview on Abu Dhabi eco-system, whereas the visiting American companies gave brief explanation on their businesses and their investment endeavors, expressing their desire to build economic partnerships that help them realize their common objectives.
SOURCE