His Excellency Dr. Ali Saeed Bin Harmal Al Dhaheri, First Vice Chairman of Abu Dhabi Chamber of Commerce and Industry, received Her Excellency Doris Hummer, President of the Upper Austrian Chamber of Commerce, accompanied by Mr. Richard Bandera, Commercial Counsellor at the Austrian Embassy in Abu Dhabi, at the Chamber's tower in Abu Dhabi.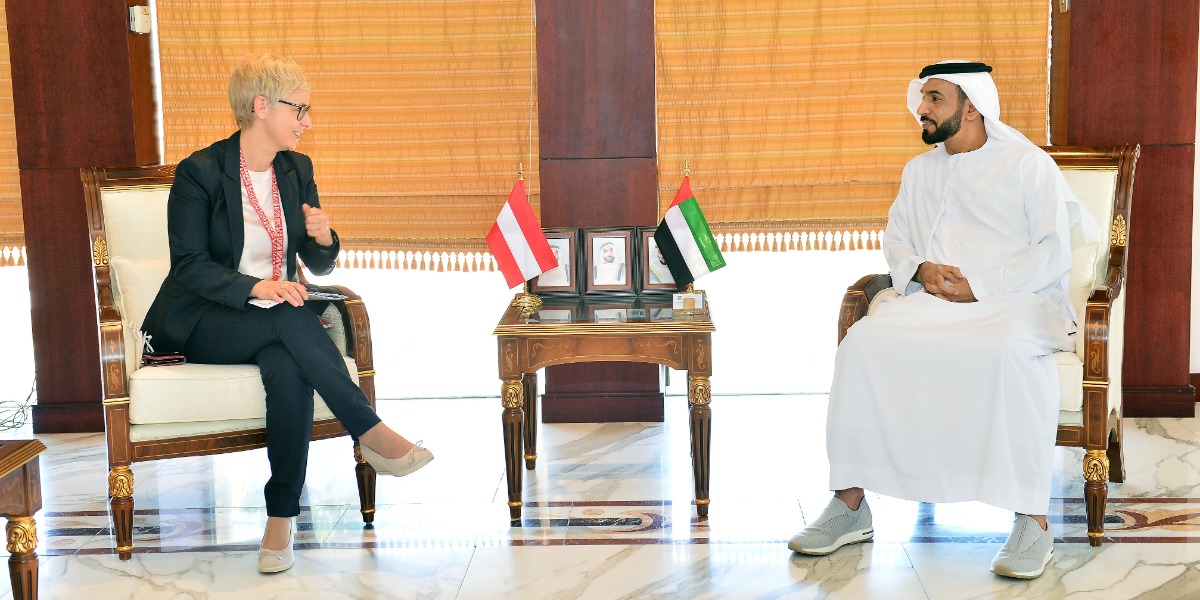 Both sides discussed boosting economic and trade cooperation between Abu Dhabi and Austria and how to better serve the business communities in both countries.
At the begging of the meeting, Dr. Ali commended the visit of the President of the Upper Austrian Chamber and the accompanying delegation, emphasizing that such visits strengthen the historical ties between the two sides which go back to the seventies of the last century. He added that the visit of the Austrian delegation would stimulate the private sector, expand joint investments, and share experiences, especially in the industrial sector, innovation, green technology, and artificial intelligence to name a few.
The First Vice Chairman also presented a brief explanation on the services of the Abu Dhabi Chamber, its initiatives and its contributions to developing and regulating trade affairs in the Emirate of Abu Dhabi.
For her part, H.E. Hummer thanked the Abu Dhabi Chamber for the welcome she received, saying that Abu Dhabi possesses all the economic factors of trade, industrial, and services sectors. She emphasized on the need to hold joint meetings that would contribute to increasing trade and cooperation between Abu Dhabi and Austria.
The President of the Upper Austrian Chamber also pointed to the initiatives her country takes to attract investments and encourage innovation in all sectors, pointing to the services offered by the Emirati and Austrian markets. She also expressed her countries desire to welcome Emirati investors by providing them with all the necessary tools to expand their businesses and increase the volume of trade exchange between the two countries.
SOURCE