His Excellency Kassym-Jomart Tokayev, President of Kazakhstan awarded His Excellency Mohamed Helal Al Muheiri, Director General of Abu Dhabi Chamber of Commerce and Industry, the Jubilee Medal on the 30th anniversary of Kazakhstan independence in appreciation to the active role of the Abu Dhabi Chamber in cementing the bilateral relations between the two countries on many levels.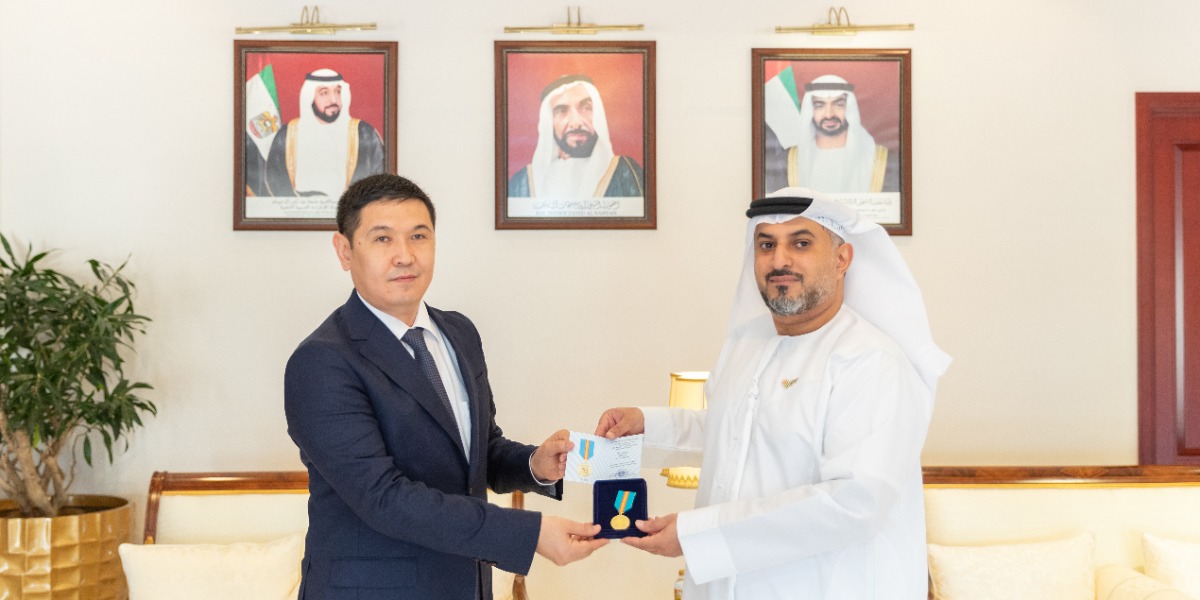 His Excellency Madiyar Menilbekov, Ambassador of Kazakhstan to the UAE, presented the Jubilee medal to H.E. Al Mheiri during his visit to the Abu Dhabi Chamber, commending the role the Chamber plays in strengthening the relations between the two countries.
H.E. Al Mheiri expressed his gratitude for the award he received, pointing to the strong relations between the two countries. He emphasized that the relations between the UAE and Kazakhstan are built upon solid grounds, which resulted in maximizing opportunities of common interests.
H.E. Al Mheiri also congratulated Kazakhstan on its 30th anniversary of independence, praising the role of President Tokayev in transforming Kazakhstan into a modern country by achieving several economic, political, and social reforms on all levels.
The UAE-Kazakhstan bilateral relationship has witnessed considerable growth in all sectors since its beginnings. Between 2016 and 2020, the total non-oil trade between our two countries increased significantly, from $246 million in 2016 to $470 million in 2020.
The Abu Dhabi Chamber has played a significant role in developing the relations between Kazakhstan and Abu Dhabi. It has organized a number of joint activities such as the UAE Kazakhatan Business Forum in 2018 to inform businesses in both countries about the available investment opportunities while signing several cooperation agreements.
In addition, the Abu Dhabi Chamber has organized, in cooperation with the Federation of UAE Chambers, a meeting with President Tokayev in 2020, which witnessed unprecedented attendance including ministers, senior officials, and representatives of governmental entities and private businesses. During the meeting, both sides signed three cooperation agreements for bilateral cooperation in education, agricultural industries and logistics.
Abu Dhabi Chamber also received four diplomatic missions over the past five years and organized two delegations to visit Kazakhstan and take a closer look at the available investment opportunities.
SOURCE