His Excellency Yousuf Ali Musaliam, Second Vice Chairman of Abu Dhabi Chamber, has received Dr. Ron Malka, Director-General of the Ministry of Economy and Industry of Israel, accompanied by Amir Hayek, Ambassador of Israel to the UAE, and the diplomatic delegation at the Chambers tower in Abu Dhabi to discuss boosting economic relations between businesses in Abu Dhabi and Israel and enhancing the communication mechanisms between the business communities in both countries.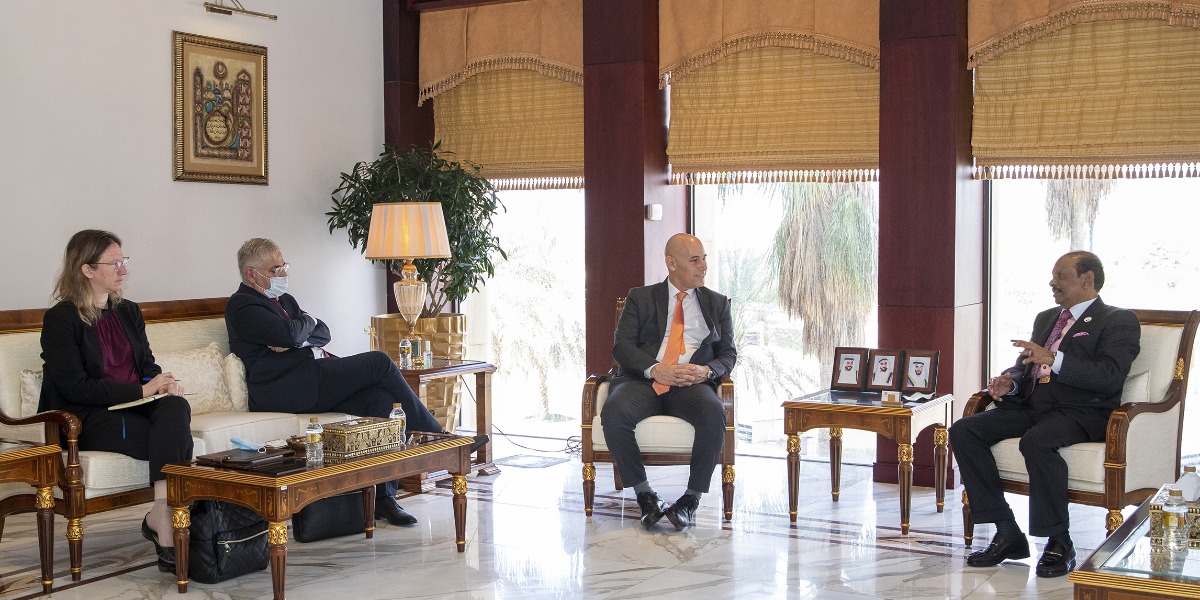 Attended by His Excellency Mohamed Helal Al Mheiri, Director General of Abu Dhabi Chamber, H.E. Musaliam expressed his pleasure for receiving the Israeli delegation in Abu Dhabi, which would push cooperation relations between the two countries forward, especially in technological industries, entrepreneurship and advanced technologies.
the 2nd Vice Chairman pointed to the many investment opportunities that would boost commercial partnerships and expand them to include strategic sectors. "The business environment in Abu Dhabi is one of the most vibrant and attractive for foreign direct investments thanks to the ease and flexibility of doing business in the emirate, which would open the door wide open for Israeli investors and businesses to benefit from all the incentives offered by the Emirate," he added.
For his part, Dr. Malka commended the welcome he received at the Chamber, expressing high hopes in increasing exchanged visits between Emirati entrepreneurs and their Israeli counterparts while pointing to the incentives his country offers to attract investments and encourage innovation in diverse economic sectors.
The Israeli official also pointed to the fine position of the UAE on the regional and international economic map thanks to its investment capabilities, praising the pivotal role of the Abu Dhabi Chamber in supporting the private sector and encouraging the business community to form new and expanded trade links with Israel.
He emphasized on the necessity to jointly coordinate the two sides efforts to inform businesses in Abu Dhabi and Israel about the available investment opportunities in the Emirati and Israeli markets.
For his part, Amir Hayek, Ambassador of Israel to the UAE, expressed his country's interest in cooperating with Abu Dhabi Chamber to organize economic events that contributes to boosting trade relations and expand the cooperation between businesses in both countries.
During the meeting, H.E. Mohamed Helal Al Mheiri, Director General of Abu Dhabi Chamber of Commerce and Industry, pointed to the readiness of the Chamber to increase trade and investment relations to better serve the private sector in Abu Dhabi and Israel.
He also pointed to the continuous efforts of the Chamber to explore the proper investment opportunities and to contribute to developing trade and investment opportunities and increase the competitive capabilities of the private sector.
SOURCE