His Excellency Abdullah Mohammed Al Mazrui, Chairman of the Abu Dhabi Chamber of Commerce and Industry, and H.E. Husin Bagis, Ambassador of Indonesia to UAE, have discussed the latest developments of economic cooperation between Abu Dhabi and Indonesia.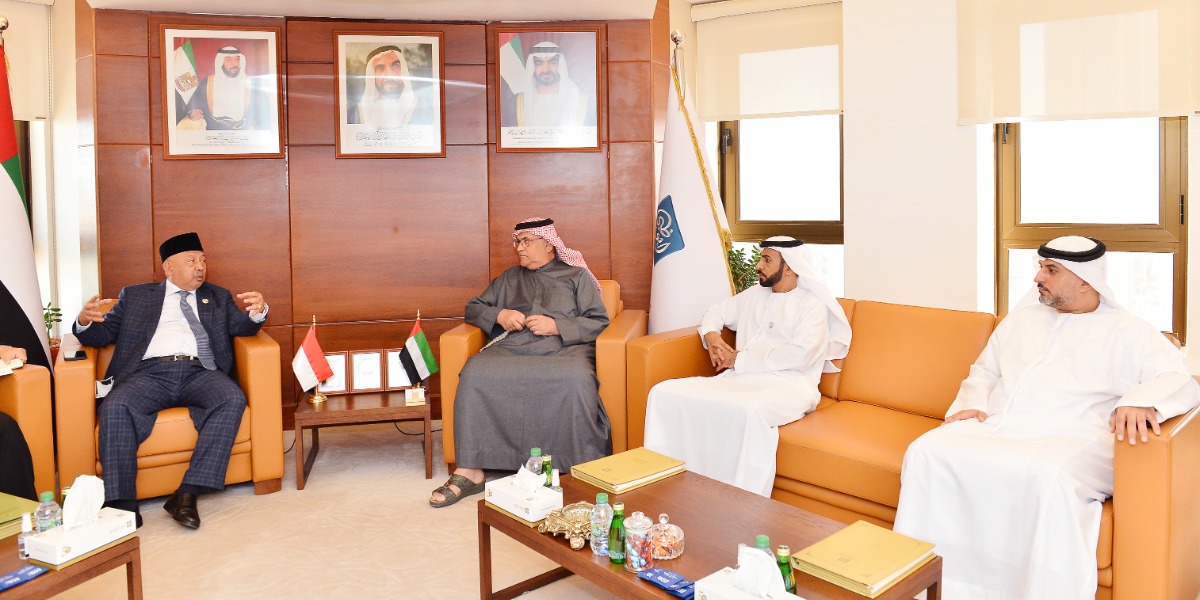 This came during a meeting held between the two sides at the Chamber's tower in Abu Dhabi with the attendance of His Excellency Dr. Ali Saeed bin Harmal Al Dhaheri, First Vice Chairman of Abu Dhabi Chamber, and His Excellency Mohamed Helal Al Mheiri, Director General of Abu Dhabi Chamber.
During the meeting, Al Mazrui emphasized on the strong bilateral relations between the two countries, especially in the economic sector, pointing out that Indonesia is one of eight countries in the world with which the UAE is keening on boosting its economic relations as part of its initiatives for the next fifty years (Projects of the 50).
The Chairman added that Indonesia is one of the most advanced markets in Asia, which is trying to extend its trade arms to European and African markets by leveraging the attractive business environment of Abu Dhabi and utilizing all the incentives the emirate provides for traders and investors from all over the world.
H.E. Al Mazrui reiterated the necessity to boost trade relations between Emirati and Indonesian businesses by activating joint investments and exploring promising opportunities for economic partnerships. He called to exchange trade delegations, open new cooperation channels and attract new investors by showcasing feasible investment opportunities.
For his part, Ambassador Bagis commended the Chamber's readiness to extend more bridges of cooperation between Indonesia and Abu Dhabi, noting that the investment climate in the UAE in general and Abu Dhabi in particular is very attractive and consists of all the factors necessary to hold partnerships and initiate big projects of common interests.
The Ambassador called on businesses in Abu Dhabi and Indonesia to expand on their cooperation and to benefit from the available investment opportunities in both countries.
SOURCE