His Excellency Saeed Ghumran Al Rumeithi, BoD Deputy Treasurer of the Abu Dhabi Chamber of Commerce and Industry, has received His Excellency Ramón E. Martínez de la Guardia,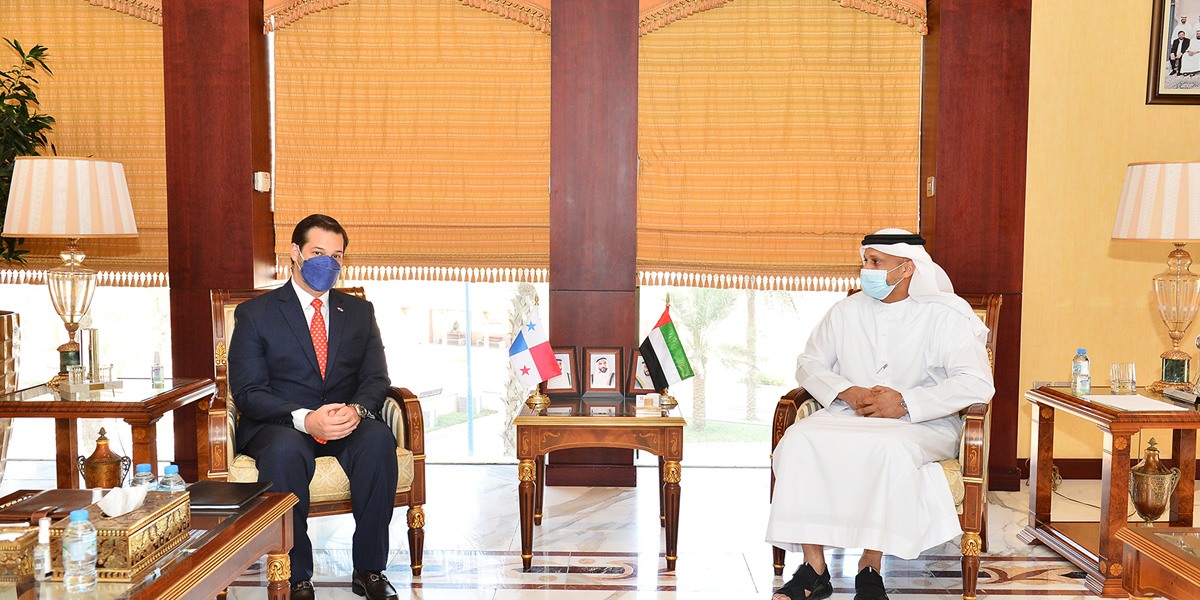 Minister of Commerce and Industries of Panama, at the Chamber's tower in Abu Dhabi, and discussed with him the prospects of supporting and developing the bilateral economic relations between the two countries.
Carmen Gisela Vergara, Director of Panama's Investment Attraction and Export Promotion Agency (ProPanama) attended the meeting along with Panama's Commissioner-General at Dubai Expo 2020, and Jose Clement, President of Chamber of Commerce, Industries and Agriculture of Panama.
Abu Dhabi Chamber Deputy Directors General Mr. Abdullah Ghurair Al Qubaisi and Mr. Helal Mohamed Al Hameli, attended the meeting as well.
At the beginning of the meeting, H.E. Al Rumeithi welcomed the visiting delegation, expressing the Chamber's interest in strengthening its economic relations with Panama and utilizing the strategic location of the country considering it a gateway to enter the markets of Latin America.
The Deputy Treasurer pointed to the economic openness of the UAE to the world and its awareness in increasing investment potentials before foreign investors as well as stimulating imports and exports and the free flow of goods.
Al Rumeithi also emphasized on the role of the Abu Dhabi Chamber in promoting partnerships between businesses in Abu Dhabi with their counterparts around the globe. He introduced the guests to the services and facilities offered by the Chamber to its members with the aim of improving the business sector in the emirate.
For his part, H.E. La Guardia commended the welcome he received at the Chamber, praising the economic boom in the UAE on all levels. He stressed on his country's awareness to develop its joint cooperation with the UAE in general and Abu Dhabi in particular in order to develop their bilateral relations and serve the people of both countries.
Minister La Guardia invited the Abu Dhabi Chamber to sign a cooperation agreement with the Chamber of Commerce, Industries and Agriculture of Panama to develop communication mechanisms between the business communities of both Abu Dhabi and Panama.
H.E. La Guardia presented a brief on the new Foreign Investment Law of Panama, which aims at attracting foreign investments, calling on Emirati businesses and entrepreneurs to invest in his country in diverse economic sectors. He mentioned the competitive advantages of his country, especially the logistic benefits and food industry, saying that his country enjoys a strong financial infrastructure and an encourage environment for businesses.
SOURCE