His Excellency Abdulla Mohamed Almazrui, Chairman of Abu Dhabi Chamber of Commerce and Industry has received His Excellency Khemissi Arif, Ambassador of Algeria to UAE, and the accompanying delegation at the Chamber's tower in Abu Dhabi with the attendance of His Excellency Mohamed Helal Al Mheiri, Director General of Abu Dhabi Chamber.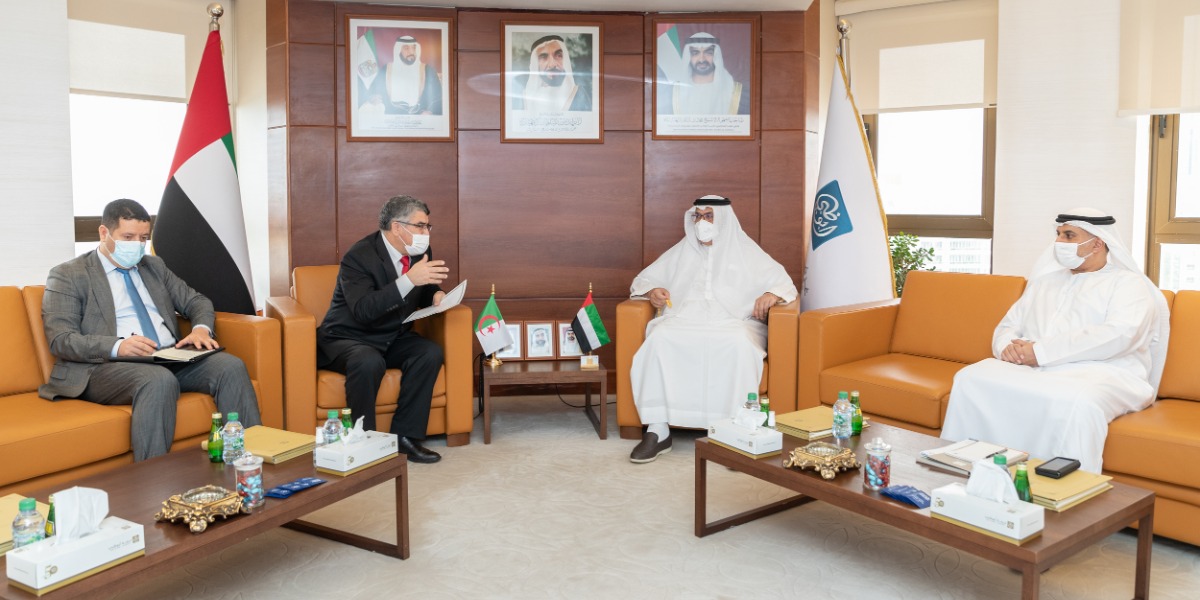 At the beginning of the meeting, H.E. Almazrui welcomed the newly appointed ambassador, wishing him all the best in performing his duties in cementing the strong relations between the UAE and Algeria.
Both sides discussed the best means of increasing cooperation and trade exchange between businesses in Abu Dhabi and Algeria in a way that contributes to enhancing the prospects of their joint investments.
H.E. Almazrui also introduced the Algerian Ambassador to the Chamber services and the innovative initiatives it takes to support businesses in Abu Dhabi, especially that the Emirate is an optimal environment for startups and offers advanced investment climate for investors, making it a great destination for Algerian investments and a great gateway for Algerian exports to Asian markets.
the Chairman emphasized that Abu Dhabi Chamber is aware to increase its trade and investment cooperation with Algeria to better serve the Emirati and Algerian businesses and investors.
For his part, Ambassador Arif expressed his honor in representing his country in the UAE, pointing to the sublime position the UAE occupies regionally and internationally. He also pointed to the need to solidify cooperation relations between the two countries on all levels, especially the economic and trade sectors.
The Ambassador expressed his thanks and appreciation for the welcome of Abu Dhabi Chamber, expressing high hopes that his visit would contribute to increasing exchanged visits between Emirati businesspeople and their Algerian counterparts.
SOURCE