His Excellency Mohamed Helal Al Mheiri, Director General of the Abu Dhabi Chamber of Commerce and Industry, has received Marianne Nissila, Ambassador of Finland to the UAE, and the accompanying delegation at the Chamber's tower in Abu Dhabi. Mr. Abdullah Ghurair Al Qubaisi and Mr. Helal Mohammed Al Hameli, Deputy Directors General of the Abu Dhabi Chamber, attended the meeting as well.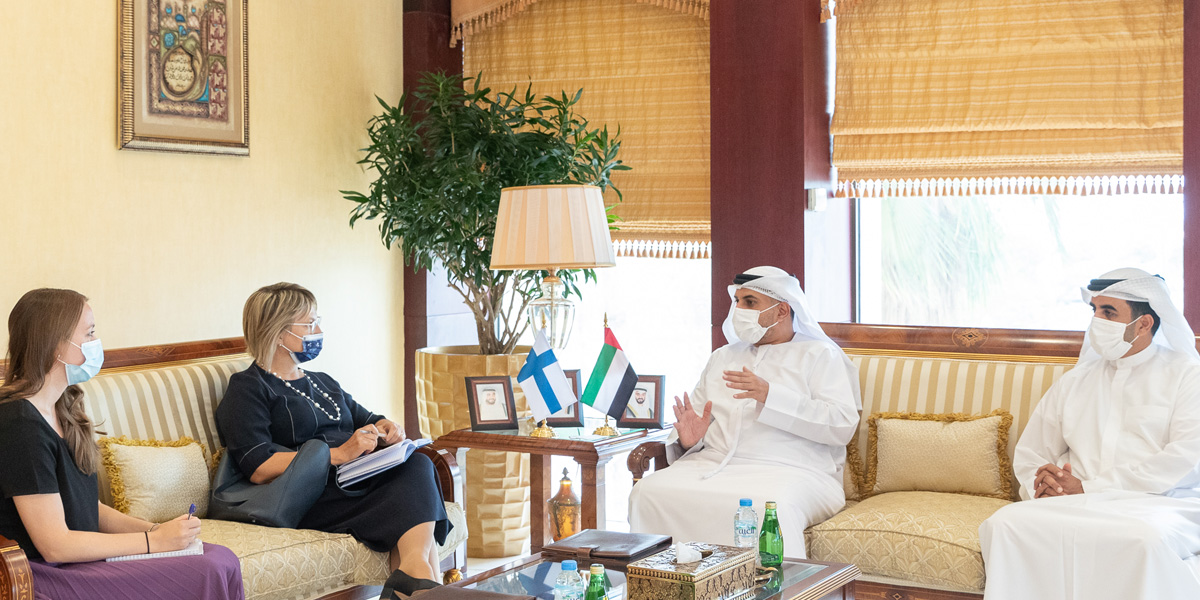 H.E. Al Mheiri welcomed the ambassador to the Abu Dhabi Chamber, praising her visit, which comes to solidify trade and investment cooperation between the business communities in the UAE and Finland.
Al Mheiri also commended the distinguished relations between the two countries on all levels, pointing to the recent development in partnerships, especially in innovation, entrepreneurship and educational sectors in addition to the growth of current trade and investment companies.
The Director General pointed to the role the Abu Dhabi Chamber plays in supporting businesses, highlighting the hard efforts it spends in developing the business sector in the UAE in general and Abu Dhabi in particular by providing businesses in the emirate with exceptional services that help in realizing the comprehensive and sustainable development. "The Abu Dhabi Chamber is completely ready to provide all sorts of support to Finnish businesses desirous of investing in Abu Dhabi," he remarked.
Al Mheiri added that the wise leadership in the UAE believes in the importance of the private sector as a key partner in the development process. "Our wise leadership provides businesses in Abu Dhabi with all the support they need to be active partners in building a sustainable, diverse and sound economy," he explained.
"Our wise leadership was aware to provide the necessary legislative system to shape the most adequate environment for businesses to grow and expand," he added, pointing to the professionalism the UAE demonstrated in dealing with the COVID-19 pandemic. "Thanks to its advanced healthcare infrastructure, the UAE was able to compete with the most advanced healthcare systems across the globe in addition to the adoption of innovative digital solutions at a time technology has become one of the most vital indicators of economic development."
For her part, Ambassador Marianne Nissila praised the reception of the Abu Dhabi Chamber, which reflects the deep-rooted relations between the two countries. She pointed to the need to keep on solidifying the economic relations between the two countries by seizing all the potential investment opportunities, which Finnish investors provide in diverse sectors including artificial intelligence, big data, and internet of things among others.
The Ambassador has expressed high hopes for an increase in exchanged visits between the Abu Dhabi Chamber, Emirati businesspersons and their counterparts in Finland in order to serve the best interest of the economy of both countries.
SOURCE