The Abu Dhabi Businesswomen Council has signed a Memorandum of Understanding (MoU) with Wio Bank PJSC, the region's first platform bank, to support female entrepreneurs with business banking solutions to grow their business.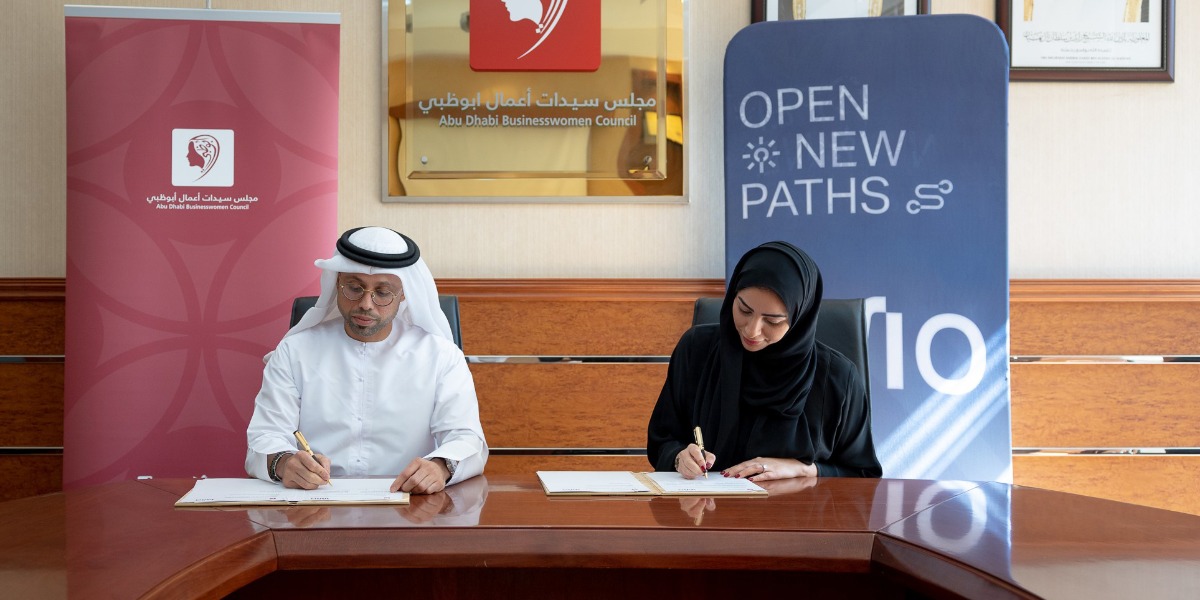 The MoU was signed by Her Excellency Asma Al Fahim, Chairwoman of the Abu Dhabi Businesswomen Council and Jamal Al Awadhi, Chief Operating and Experience Officer at Wio Bank, following a workshop titled "How to grow your business", which was held at the Abu Dhabi Chamber of Commerce and Industry's (ADCCI) headquarters.
The partnership will see a range of benefits extended to female entrepreneurs and business owners to enable them to manage their business successfully. Aside from enhanced access to Wio Bank's business banking solution Wio Business, women business owners and entrepreneurs will benefit from access to financial management training, expert talks, webinars, and focus groups jointly led by Abu Dhabi Businesswomen Council and Wio Bank. The two organisations will also explore additional areas of collaboration to drive the growth of the private sector in Abu Dhabi.
Her Excellency Asma Al Fahim, Chairwoman of the Abu Dhabi Businesswomen Council, said: "We are delighted to partner with Wio Bank, which plays a key role in supporting businesses to reach a new level by providing integrated banking services. Our agreement with Wio Bank comes as part of the Council's efforts to support women in their entrepreneurial journey, provide them with the required training, exchange knowledge and expertise, and increase their opportunities in the market, to drive their contribution to the economic growth of the Emirate of Abu Dhabi."
Commenting on the MoU, Jamal Al Awadhi, Chief Operating and Experience Officer at Wio Bank, said: "We're proud to be partnering with Abu Dhabi Businesswomen Council to support women of the UAE with their entrepreneurial journey. In Wio Business, we have created a banking solution that enables SMEs to reach their goals and ambitions. Managing finances can be tedious, especially when you're running a business. Wio Business simplifies this through intelligent, integrated solutions empowering business owners to focus on making their business dreams, a reality."
The Abu Dhabi Businesswomen Council, a subsidiary of the Abu Dhabi Chamber, aims to lead the development of women's role in the private sector and enable them to be a key partner in Abu Dhabi's sustainable economic development. The Council provides top-quality services, including training, development, consultancy, professional guidance, and more.
Wio Bank brings the next generation of banking to the region to open new paths for customers and enables them to access banking services effortlessly. Its first digital banking application Wio Business, is tailored to the needs of SMEs, entrepreneurs and freelancers and provides them simplified banking solutions including fully digital business account opening, personalised options and seamlessly integrated services that are built around each client's needs, helping them automate their admin, be in control of their spending with unlimited virtual cards for their team, create various Saving Spaces for outgoings such as VAT and rent, and focus on growing their business.
Wio Bank was officially launched in September 2022 by offering three key capabilities, namely Digital Banking apps, Embedded Finance and Banking-as-a-Service solutions.
-ENDS-
About Wio
Wio Bank PJSC is an integrated digital banking platform jointly owned by Abu Dhabi Development Company (ADQ), Alpha Dhabi Holding, Etisalat, and First Abu Dhabi Bank (FAB) with an initial capital outlay of AED 2.3 billion. The bank is regulated by the Central Bank of the UAE.
For more information, visit www.wio.io
SOURCE