The Abu Dhabi Businesswomen Council of the Abu Dhabi Chamber of Commerce and Industry signed a Memorandum of Cooperation with Tafweed for Legal and Translation Consultancy Company to exchange experiences and improve the services provided, as well as to enhance opportunities and keep up with rapid developments at various levels.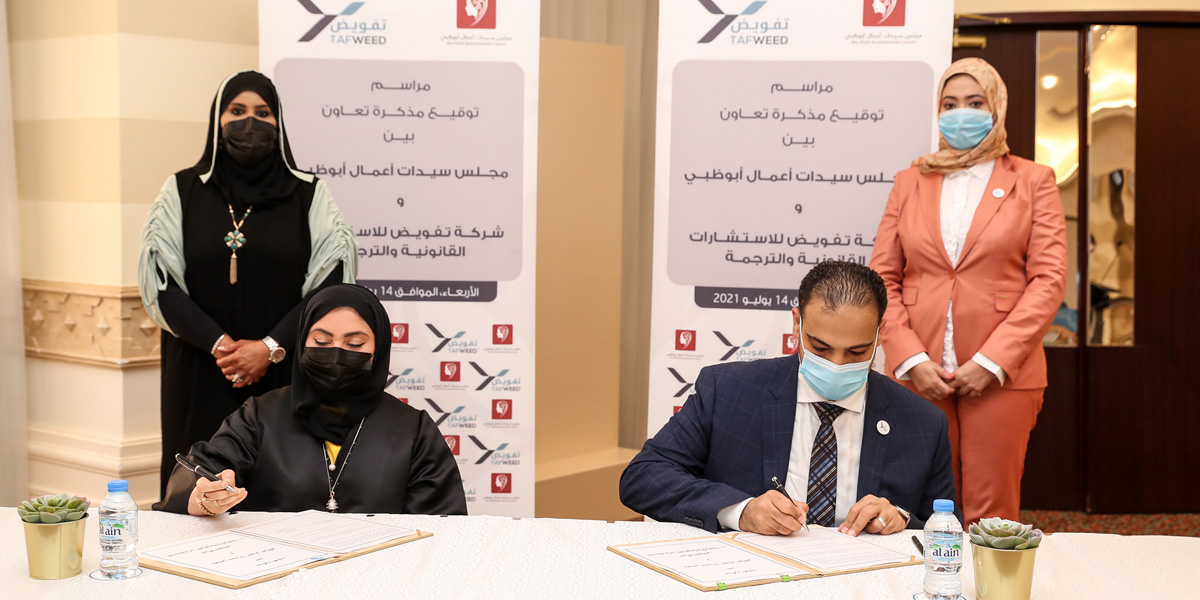 Her Excellency, Mariam Mohammed Al Rumaithi, Chairperson of the Abu Dhabi Businesswomen Council, said the Council's signing of MOUs is an extension of its commitment to supporting the building of strategic partnerships and agreements with government and private institutions and companies in the UAE and abroad, and to achieve one of the Council's strategic plan initiatives 2020-2024, which will increase the value of services provided to the Council's members, provide the highest level of development and progress and enhance their opportunities, and consolidate their position in the business market.
Al Rumaithi added, "The Council looks forward through its cooperation with 'Tafweed' to making use of the optimum expertise and capabilities in the field of legal advice and training programs it will supervise in a variety of areas through its partners who volunteered to participate in supporting the business, in order to motivate women to achieve leadership in the business sector and enhance the active role of young businesswomen in achieving social and economic development in the UAE." She pointed out that the agreement between the two parties contributes to the empowerment of Emirati women, strengthening her capacity in the labor market in accordance with best practices.
On her part, Safinaz Al Mahdi, CEO of Tafweed said, "The signing of the Memorandum of Cooperation with the Abu Dhabi Businesswomen Council provides 12 legal services through the Company's "Invest in the UAE" initiative launched last April. This service will play an influential role in the entrepreneurship environment not only by providing consultations and services but also by informing business owners of the opportunities and resources available, which would help them overcome the various challenges that may hinder business development and growth".
Al Mahdi added. "The cooperation between the two sides aims to prepare and develop training tracks in cooperation with a group of businessmen experienced in the UAE market, to highlight the foundations of creating project ideas, preparing and providing training tracks for business development and sustainability, as well as training tracks aimed at introducing businesswomen to how to invest the challenges facing businesses and turn them into exceptional opportunities, and to highlight the tools and foundations that enable businesses to keep up with the accelerated developments at various levels, especially with regard to AI technologies, contribute to the development of its marketing strategies and build its sustainable trademarks.
The CEO of Tafweed pointed out that the services provided will be subject to a monthly evaluation process by businesswomen, which would enable them to assess the level of services provided, improve performance levels, and reflect the strategic objectives of the parties.
SOURCE